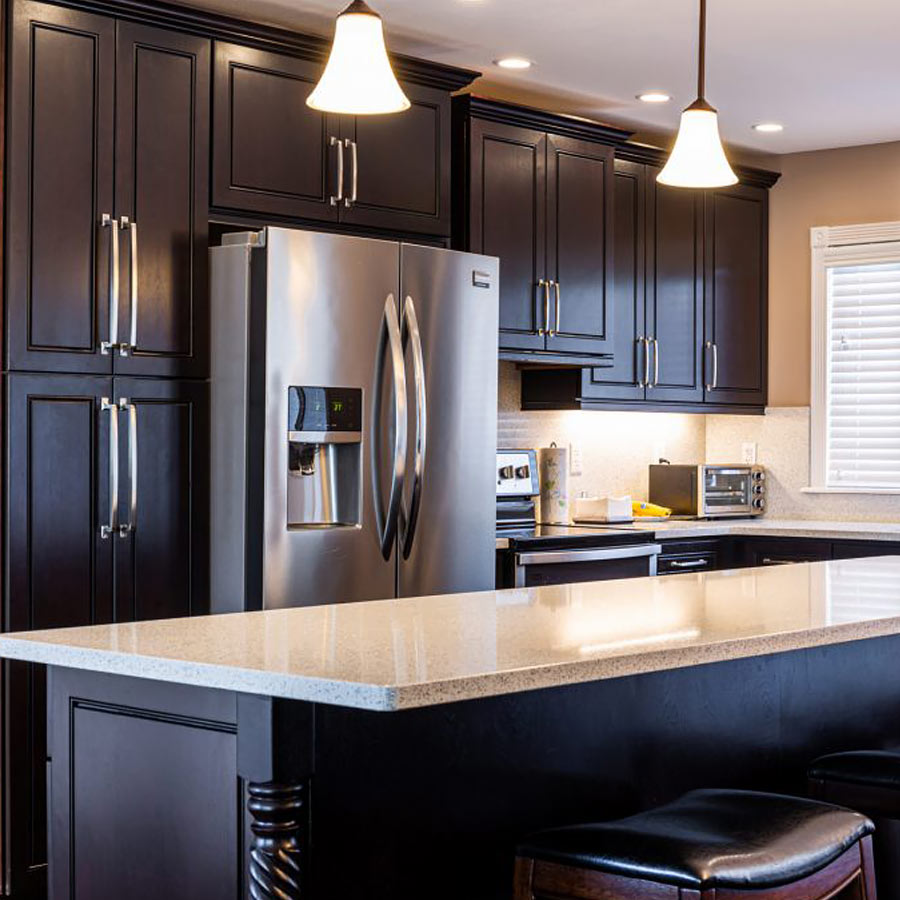 K8 Espresso Transitional Collection cabinets Aurora Line
K8 Espresso Looking to create a one-of-a-kind kitchen design? Our K8 Espresso Transitional Cabinets beautifully blend modern and traditional styles. The bold and daring charcoal shade of these cabinets makes a statement in any kitchen design. Our cabinets undergo rigorous testing to ensure premium quality, so you can rest assured that you're getting only the best. Come and see our K8 Espresso Cabinets and other kitchen design options in our Aurora Line Cabinets showroom in Arlington Heights, IL.
All J&K's cabinets and vanities are superiorly constructed with 100% solid wood and proudly come with the following STANDARD features:
1. Door Panel: 3/4"-thick solid wood; full overlay door.
2. Door Hinge: 6-way adjustable; soft-close metal; hidden Euro-style.
3. Adjustable Shelf: 3/4"-thick cabinet-grade plywood; clear coat finish on all sides and edges; with metal shelf rests.
4. Drawer: 5/8"-solid wood on all sides; dovetail construction.
5. Drawer Glide: full extension pull-out; soft-close metal; concealed under-mount.
6. Plywood Box: 1/2" to 5/8"-thick cabinet-grade plywood; clear coat finish on interior sides; matching color finish on exterior sides.
7. Metal Bracket: corner bracket reinforcements in base cabinets for maximum stability.
8. Door Bumper: promote quiet-closing and reduce slamming for maximum durability.
K8 Espresso Transitional - FROM 3000$ per 10' X 10'