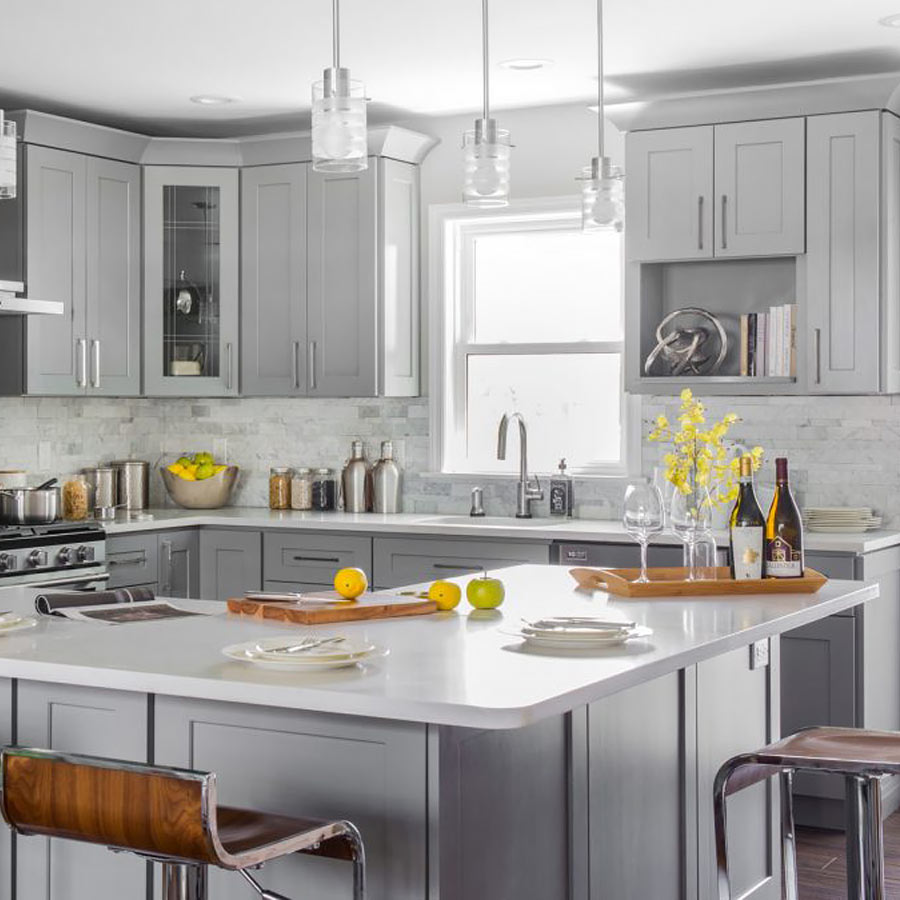 S5 Castle-Grey Contemporary Collection cabinets Aurora Line
Are you looking for kitchen cabinets that combine aesthetic appeal and high quality? Look no further than our S5 Castle Grey Kitchen Cabinets. These cabinets embody the timeless beauty of Shaker style and the striking grey color to create a stunning and elegant kitchen design. The simple yet captivating grey hue complements any kitchen interior, from contemporary minimalistic to bold vintage styles. Our S5 Castle Grey Kitchen Cabinets offer a modern and sophisticated take on traditional cabinetry. They infuse a fresh and crisp statement into any kitchen, regardless of its style. With various colors and styles to choose from, these shaker style cabinets are a perfect fit for any kitchen. Our S5 Castle Grey Kitchen Cabinets feature a sleek and minimalistic design that adds a distinctive and bold touch to your kitchen. They are an excellent choice for any kitchen style, accommodating diverse personal preferences. With their unique Castle Grey finish, these cabinets are versatile enough to enhance the beauty of any kitchen design.Visit our Aurora Line Cabinets showroom in Arlington Heights, IL today to see more of our stunning 5 Castle Grey Kitchen Cabinets and explore various options for your kitchen design.
All J&K's cabinets and vanities are superiorly constructed with 100% solid wood and proudly come with the following STANDARD features:
1. Door Panel: 3/4"-thick solid wood; full overlay door.
2. Door Hinge: 6-way adjustable; soft-close metal; hidden Euro-style.
3. Adjustable Shelf: 3/4"-thick cabinet-grade plywood; clear coat finish on all sides and edges; with metal shelf rests.
4. Drawer: 5/8"-solid wood on all sides; dovetail construction.
5. Drawer Glide: full extension pull-out; soft-close metal; concealed under-mount.
6. Plywood Box: 1/2" to 5/8"-thick cabinet-grade plywood; clear coat finish on interior sides; matching color finish on exterior sides.
7. Metal Bracket: corner bracket reinforcements in base cabinets for maximum stability.
8. Door Bumper: promote quiet-closing and reduce slamming for maximum durability.
S5 Castle-Grey cabinets - FROM 2750$ per 10' X 10'